Details below of a terracotta floor cleaning job we did near Boston, that's Boston in Lincolnshire which is small port on the east coast of the UK as opposed to Boston, Massachusetts which was given its name by emigrants from this area.
The tiles were expensive handmade terracotta tiles, a few of which contained finger prints that had been baked onto the tile during the manufacturing process. The owner had previously tried to seal the floor themselves using other products but was having difficulty and had delayed making use of their new kitchen extension until the floor could be sealed.
Cleaning Terracotta Floor Tiles
To ensure a consistent finish we had to remove the previous sealer and make sure the Terracotta floor was clean it was scrubbed with a buffing machine assisted with Tile Doctor Pro-Clean which is an effective alkaline cleaner and sealer remover depending on the dilution. Cleaning the Terracotta floor tiles took a day to complete before being washed down with clean water to remove any remaining cleaner and neutralise the floor.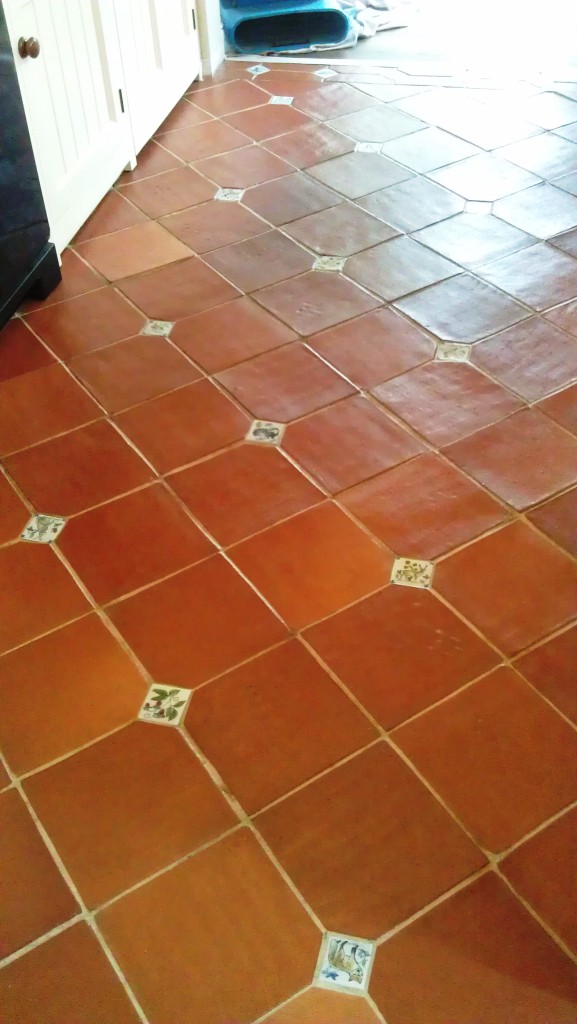 Sealing Terracotta Floor Tiles
The floor was left overnight to dry and we came back the next day to apply a sealer to protect the tiles, sealing those pores that collect dirt and make them easier to clean. We used four coats of Tile Doctor Seal and Go for this; it's recommend for Terracotta floors bringing out the colour in the tile whilst providing a Matt finish. The customer was over the moon with the results and can now move into their new kitchen and sealed tiles.
Cleaning and Sealing handmade Terracotta floor tiles near Boston