Recently, I was asked to visit a property in the small port town of Boston, Lincolnshire, to quote for a clean and seal. My client had recently moved into a new home, but the riven natural Sandstone flagstone floor had not been properly cared for or sealed by the previous owners and was now in need of a thorough clean. Sandstone flagstones are a popular choice for both residential and commercial use, and are especially popular in kitchens and hallways.
This particular floor was blemished by noticeable stains that had seeped into the stone. Further liquid stains were visible in other areas of the floor, as they had soaked into the stone due to the lack of a surface sealer. My primary tasks would be removing these blemishes and to provide a stain resistant surface seal to prevent damage in the future. My client also requested a natural look finish to the floor rather than a topical shine seal.
Cleaning a stained Flagstone tiled floor
This was a two day job. On day one, my main focus was on eliminating the stubborn stains on the stone tiles. I mixed a strong solution of Tile Doctor Pro-Clean, a high alkaline cleaner, with water to tackle the heavy soil build-up and applied the solution to the floor in sections leaving it to dwell for a short period first so it could get underneath the dirt and lift it to the surface.
I then used a combination of a stiff brush and a specialist Rotovac machine to scrub and clean the floor. The Rotovac uses water under high pressure to clean the floor and is highly effective in eliminating the difficult-to-reach dirt, particularly where it might be hidden due to the riven nature of the tiles. The cleaning process was repeated until I was satisfied with the results.
Sealing a Flagstone tiled floor
After finishing the clean I left the house, allowing the floor to dry off overnight. On day two, I returned to the house and ran damp tests to ensure that the surface was completely dry before commencing the seal.
My choice of sealer was
Tile Doctor Colour Grow
. As an impregnating sealer, this product soaks into the stone to provide robust protection from within. It also contains a colour intensifier and so, as you can see from the photographs, it really helped to enhance the natural shades in the Sandstone.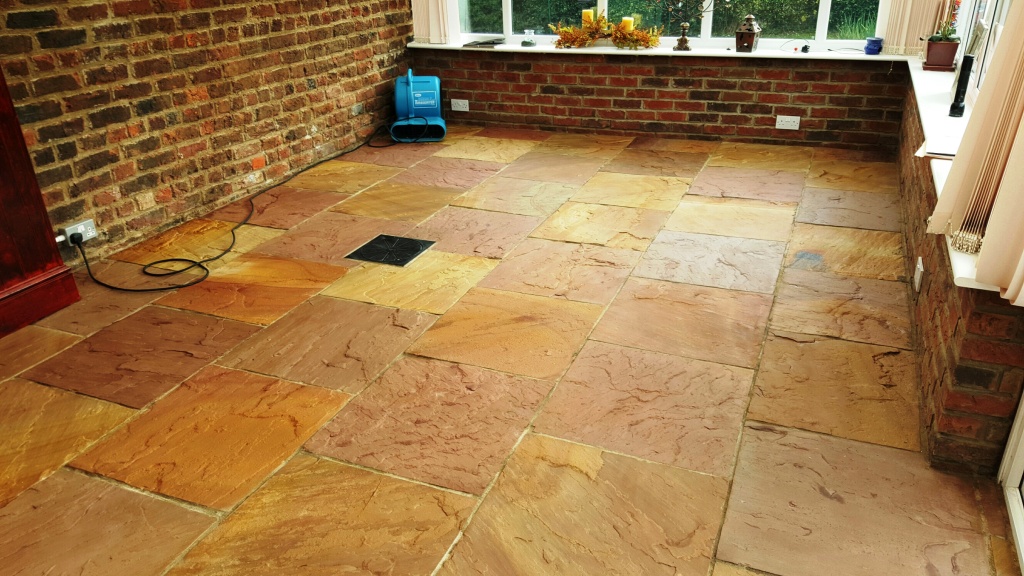 My client was delighted with the results and I think you will agree the floor looks transformed and much more appealing. Additionally the sealer is now protecting the stone from staining and liquids form puddles on the surface of the tile instead of soaking into its pores.
Tile cleaning and sealing for stained Flagstone tiled floor restoration in Lincolnshire
Restoring a Stained Flagstone Tiled Floor in Boston